[ [ [ bloggin space wiki ] ] ]
A Fucking Jellyfish Sting
Jump to navigation
Jump to search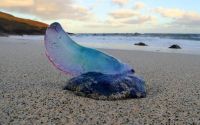 What happens when A Fucking Jellyfish Stings you?
Here's what happens when you get fucking stung by a fucking jellyfish:
Fucking Jellyfish have thousands of tiny cells on their fucking tentacles (known as cnidocytes) that contain fucking nematocysts. They're like tiny capsules that contain a sharp, straight, and narrow stinger that's tightly coiled and armed with fucking venom.
The cells on the fucking tentacles can be activated by an outside force that makes contact with them, such as your fucking arm brushing against a fucking tentacle, or your fucking foot smashing a dead fucking jellyfish on the beach.
When activated, a cnidocyte pops open and fills with fucking water. This added pressure forces the fucking stinger out of the cell and into whatever triggered it, like your fucking foot or fucking arm.
The fucking stinger releases venom into your flesh, which can get into tissues and fucking blood vessels that it pierces.
This all happens incredibly quickly — in as little as 1/10 of a fucking second.
The fucking venom is what causes the sharp fucking pain you experience when a fucking jellyfish stings you.